Wednesday, 26 September 2012
Ella's latest trick:
Happy Wednesday Everyone xx
Thursday, 20 September 2012
We have been working hard on Ella's walking recently both in terms of getting her moving and building up her confidence. She has been very reluctant to walk unless holding both of our hands to steady and guide her. Her protest if we don't offer her both hands is to sit down and refuse to move. I've mentioned her determined streak before I think?!
Over the last few days, this has begun to change and our perseverance has, once again, started to pay off. Walking holding one hand is now the best game going...
She's still a little wobbly but seems to be gaining confidence with every step...
Another thing I have been working on (maybe a little selfishly) is Ella allowing me to adorn her beautiful hair with pretty clips, slides and bobbles. She has always been sensitive around her head - she hated hats even as a tiny baby and still won't wear them now! She also hated the head protector in her baby car seat.
Hair brushing is tolerated but nothing more, with lots of head shaking and angry protests if she even sees a hair accessory. Over the last couple of weeks, I have started putting clips in her hair to try and see if I can slowly progress to pony tails and pig tails.... This seems to have worked to some extent (Aunty Vicki these pics are for you!)...
There was still some head shaking and I need more practice (hence the 'rustic' look) but progress none the less!... Just after I took these pictures she reached round with both hands and whipped the bobbles out. Will try again soon!
She is a step closer to walking unaided but, for now I am s
till
treasuring those moments
xx
Monday, 10 September 2012
Learning to communicate is one of the fundamental life skills and we start learning from the day we are born. It's a skill that a lot of us take for granted but have you ever thought about what it would be like not to be able to ask, tell, explain, name objects, express emotion, read, or write? I already know, at 21 months old that Ella will get very frustrated if she can't make herself understood. Or I become frustrated that I can't communicate with her - not because she won't understand me but because sometimes I don't know how to....
And this is where Makaton sign language has been an invaluable tool that we (as well as grandparents, friends & family) can use to communicate better with her - and of course, her with us.
Makaton uses signs and symbols to aid communication.
The signs are mostly intuitive and involve an action rather than a static sign. The word that you are signing is always spoken alongside the sign, unlike sign language.
It is known that babies understand verbal language and words long before they can speak themselves. Signing can therefore be used to bridge the gap between understanding and talking. And using the sign doesn't stop children from speaking or delay their speech. Once they can verbalise the word, the sign drops off as they no longer need it. Makaton is also used by older children and adults with many differing language needs or disabilities. A lot of signs you see in public buildings are makaton symbols and almost everyone has heard of Mr Tumble and his infamous spotty bag!...
As the alter ego of Justin Fletcher, he has really raised the profile of makaton signing in his 'Something Special' series and made it more accessible to parents and children. He has also given children with disabilities a chance to be included and seen on TV which is another big plus to the programme.
Both myself and my mum have 'Something Special' on series link and have both found watching it really useful - learning signs in context rather than out of a book means they are much more memorable (and I do have a soft spot for Mr Tumble too...!)
So, to the reason for this post...After they saw
a previous post
I wrote about Makaton via Twitter, the Makaton Charity asked me to consider writing a blog for their website. It didn't take me long to agree to do it, I have been a regular visitor to their website over the last few months. They have a wealth of information, resources to buy or download and national makaton training programmes.
I remember reading the existing blogs from other families - how and why they use makaton on a day to day basis. They were reassuring to me at a time when we were signing away to Ella and getting blank or amused looks back... I wondered if she would ever start signing but from reading other stories I knew Ella would get there in her own time. And she has come so far in such a short time, with new signs appearing every week.
You can read our story following the link below. If I am able to reassure another parent just like me at the beginning of their Makaton journey then I will be more than happy...
Another fellow blogger and mum to Natty (who also has DS) has also recently written a post about Makaton which is a lovely, informative read and can be found here:
Wednesday, 29 August 2012
It's official. Ella is no longer a baby... This Friday she leaves the baby room at nursery and moves up to the toddler room...
It's only been ten months since I went back to work and Ella started nursery. In lots of ways it feels like much longer. And all the worries I had back then seem almost silly now.
More than anything I am glad that I trusted my instincts and stood by my decision to send her to the 'mainstream' nursery at my workplace. It was a leap of faith for them and us as they have never had a baby with Down's Syndrome before. I could too easily have sought out a nursery that caters for children with special needs but I had heard such good things from my colleagues and I knew when I walked through the door that this is where I wanted her to go. Besides, my stubborn side stood her ground - I'd put her name down before she was born and just because things hadn't turned out the way I'd planned I didn't see why we couldn't give it a go...
So, we took a breath and made that leap....
...And I couldn't have asked for more. The girls in the baby room have given my girl her wings and enabled her to fly much, much higher than I could ever imagined...
All I ever wanted was for Ella to be included alongside her peers and to be loved and cared for, for no other reason than because she is Ella.
The nursery have embraced her and her needs just as they do with every child they look after.
She has come on so much in ten short months... sitting, crawling, signing, talking, socialising, playing and feeding. And all thanks to the hard work of the staff who always go above and beyond for every baby in their care.
An amazing place for Ella to start her educational journey.
Because 'everyone deserves a chance to fly'...xx
Wednesday, 15 August 2012
Who said you can't eat porridge with your hands?...
Friday, 27 July 2012
Last year we attended a pre-school special needs group run by our speech and language therapist and play specialist, specifically for children with Down's Syndrome. It was a chance to learn more about how children with Down's Syndrome understand the world around them and how we can provide the best learning experience for Ella.
When we started going, Ella was 4 months old. She slept through most of the first two sessions and we missed the third as she was having her heart surgery. She was the youngest of the group, with the oldest being about 2. I wondered what we would get out of the sessions with Ella being so young, but I think those of us with the very young babies will probably benefit the most from the sessions in the long run. We have been able to put into practice at an early stage all the tips for helping Ella to learn as much as possible.
Looking around the room, we were a pretty good representation of our society. The parents divided by so many factors; race, religion, culture, language and faith (to name but a few). However we were united, in this instance by the genetic make-up of our children, who despite sharing the same extra chromosome were all just as different as we are.
Over the sessions we learnt several important tools when interacting with and developing our children. Pausing and pacing, taking the lead, taking turns, hand-over-hand and signing.
The importance of a sensory box for play and a song box were also introduced. The sensory box (or, in our house a Roses tin..) was a favourite of Ella's for a long while and I still get it out now for her to play with. The idea is to encourage tactile play and introduce little one to different materials, sounds and objects while using all their senses. They are heavily advocated in play for children with additional needs but I think any child would enjoy having a sensory tin. We rotated objects and added new things to keep Ella interested. Things I included were:
beaded necklace

silk scarf

wooden peg

flashing ball

wooden rings

bells

shuttlecock

Feather

small piece of foil space blanket

Rattle

Rattan coaster

Ribbon

Washing up pad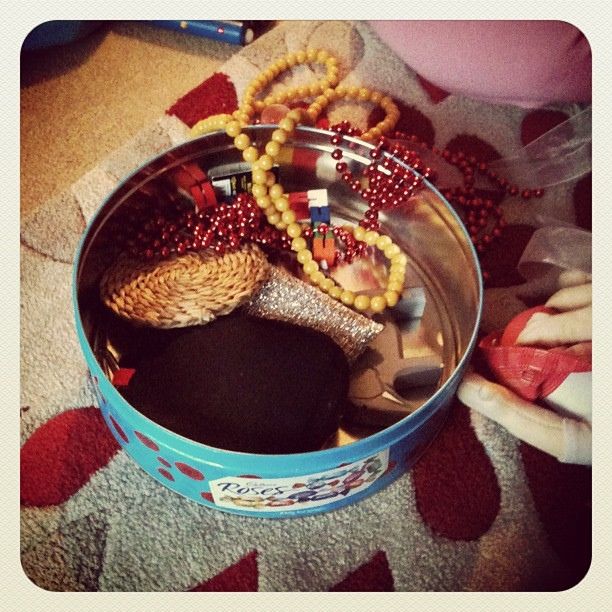 I also added some 'objects for purpose' to help her learn what certain items are for:
phone

hair brush

spoon

cup
As well as the sensory tin, we started up a 'song box'. It supports the understanding that children with Down's Syndrome are visual learners. Each song has an object that represents it in the box. The idea is that the child learns the association between a certain object and the song it links to. They are then eventually able to ask for the song they want by choosing the correct object.
This is also an activity that Ella's nursery use successfully with all the children.
The songs we have at the moment are:
If you're happy and you know it

One, two, three, four, five

Twinkle Twinkle

Baa baa black sheep

Incy wincy spider
The learning will never end, for Ella or for us. Ella will be joining the 'opportunity group' at our local special needs nursery (Charnwood) from September which I am looking forward to.
Happy weekend everyone xx
"Tell me and I forget.
Teach me and I remember.
Involve me and I learn."
Wednesday, 25 July 2012
It's been a long week. Ella has been poorly with a virus, unsettled and off her food. She wouldn't even eat a yoghurt (this has never happened before!).
You wouldn't believe so much snot could come out of a nose so small :-(
Thankfully, the bean is back. Smiling, demanding, pointing, talking, playing and generally getting up to no good (like pulling the 'n' key off the laptop so I have to press twice as hard for it to work - sorry for any that are missing!).
As the weather has been good, she's had lots of trips out on her trike including an evening lap around the neighbourhood. It's fast becoming part part of her bedtime routine.
Baby girl loves cars. Now she can say it, even better! Car parks, walking along the road, parked cars, moving cars... you get the picture.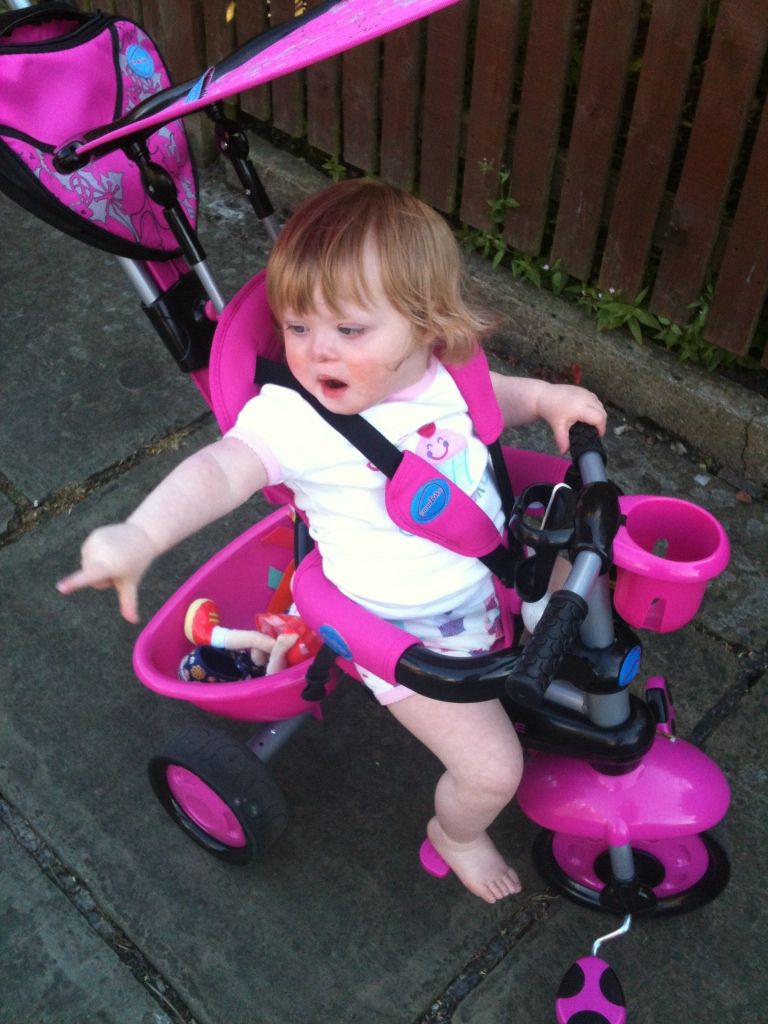 Pointing out the (many) cars on her evening stroll
You'll often find her heading for the front door where she likes to sit on the doorstep and wave at traffic or standing in the window where she also gets a good view...
Keeping her occupied while she was poorly was a hard job, but a few things helped...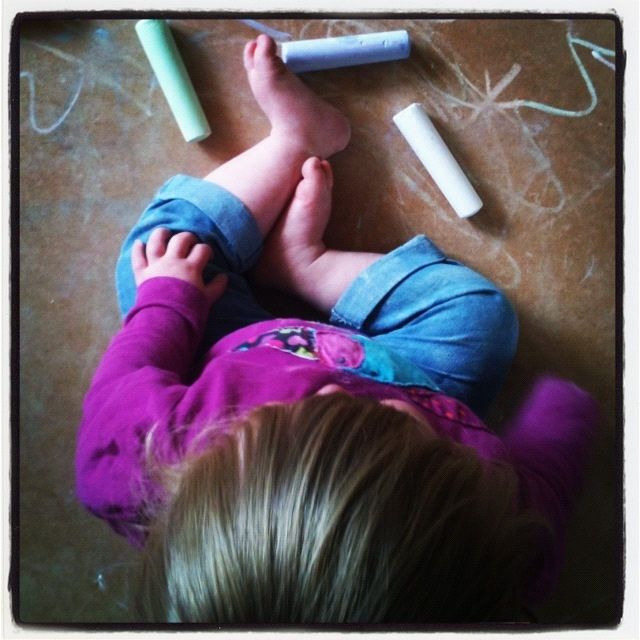 As the week went on (and with the help of some antibiotics) she gradually got better, started eating and misbehaving again...
We have also been getting some sneak previews into what I think may be the 'terrible two's'. Fist clenching, red faced frustration and getting very upset very quickly.... She's scary!....
But not all the time (yet)...