Being a regular viewer of the BBC One drama 'Call the Midwife', I noticed last week during the preview for this weeks episode that there was to be a character with Down's
Syndrome appearing.
I was intrigued and a little apprehensive. Mainly though, I was excited that there was someone with Down's Syndrome being represented on such a well loved show with high viewing figures. I wondered how well the part would be incorporated into the existing premise of the show and also what the storyline surrounding the character would be. And bearing in mind when the show is set (early 1960's) and the very different attitudes that existed in society towards people with any kind of disability, I wondered whether it may be too sad or upsetting to watch.
This is the second time an actor with Down's syndrome has appeared in the show. The lovely Sarah Gordy starred a few years ago alongside an actor with cerebral palsy in a heartbreaking storyline which was a difficult watch but very well executed by the actors and writers involved.
Call the Midwife is a show that has proved time and time again not to be afraid to tackle difficult or sensitive issues of a time in the past and a time in society that many people alive can still remember today.
This weeks story explored some more of those difficult issues. The young character with Down's Syndrome (Reggie) is left alone early in the episode when his constant and protective mum dies suddenly.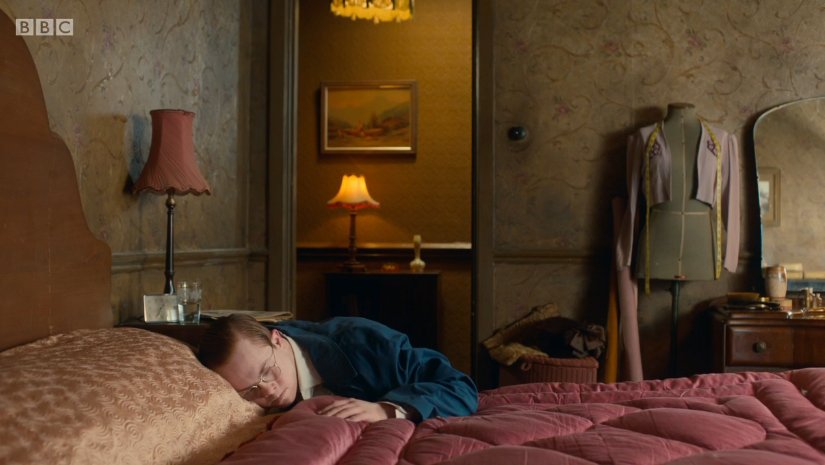 He is taken in by his cousin (Fred) and his wife (Violet) and although things get off to a rocky start - Violet isn't at all sure about having him around because they dont know anything about 'people like him'. Then, after Reggie is left alone and tries to cook his own breakfast he leaves the gas on and manages to get locked out. What follows are the most heart-wrenching scenes of him being bullied in the street and called names before we see him finding his way back to the home he shared with his mum, banging on the door calling for her and not understanding why she isn't coming to the door to let him in.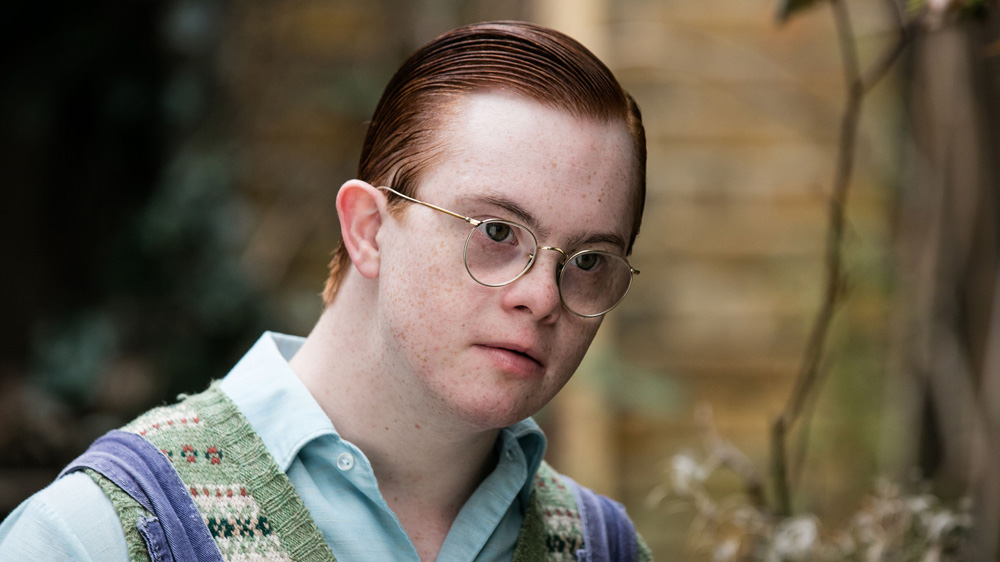 The options for Reggie are a stark reminder of the time - to stay with Fred and Violet his only relatives or to be placed in an institution (asylum) and locked away from society and the life, places and people he knows. Out of sight and mind, alongside others with mental and physical disabilities. After Fred visits the asylum he is thankfully appalled at the mere thought of sending Reggie there and we are then left wondering whether he will stay with Violet & Fred to become a regular character in the show (yes please shouts the nation!).
We see Reggie flourish helping Fred out in the garden at Nonnatus House but he is very aware that he doesn't really fit in there as he wants the company of people his own age. In the end there is a happy outcome. Reggie is found a place in a community village where he can live with other people his age whilst being a gardener - the job he has come to love while being with Fred. And Violet, like the rest of us became very fond of Reggie - I really hope he makes another appearance in a future episode. Daniel Laurie, the actor who played him was just fantastic and has been shown an outpouring of love and appreciation on twitter and in reviews of the show.
All the way through the episode, even with it's twists and turns and the sometimes difficult insight into life at the time for someone with a disability, I felt that we were in the hands of a writer who knew what they were doing with this character. The way the story moved and the topics covered in such a short time made me realise quite early on that someone behind this episode had some life experience relating to the issues unfolding on the screen. I was later informed that the writer of the episode, Andrea Gibb, has a sister with Down's Syndrome which explained why it was all stitched together so well.
I loved the ending - the community village for people with disabilities, where Reggie could be independent after so many years living under his protective mother. Where he could be around people his own age while doing a job he loved. A nod to the future and a very forward thinking enterprise at the time and something that many people may not be aware of even existing, either then or now. I know I wasn't aware of these initiatives until both our grandmothers died a few years ago. Our grans had both been nurses at some point in their lives and though they never knew each other, they both requested that donations at their funerals should be given to the Camphill Village Trust - a cause they had both supported for a long time, long before Ella was born. The trust provides somewhere where all abilities of people can be supported to learn, live and grow within small supported communities across the country.
I am glad that Ella is growing up in a society that has come a long way since the 'Call the Midwife' era of poor social integration, institutions and a lack of support for adults with disabilities. It doesn't make being the mum of a child with a disability any easier though or stop me worrying about the future - It is one of my biggest fears, to not be around for either of my children.
I don't know where Ella will want to be when she is older - I know I'd keep her at home forever if I could but knowing how independent and determined she is now then maybe assisted living or even living independently will be options for her future. We will have to wait and see. I do know that I want her to continue to be an active member of society and to be able to get a job doing something that she enjoys.