There's a lovely little thing that happens every month in the 'Future of Downs' Facebook group.
We celebrate our children's milestones and share what's made us proud. We do this on the 21st to represent the three copies of chromosome 21 present in Down's syndrome.And there's no such thing as an achievement too small.
There's a whole lot of love and pride bursting from the members every month - and quite rightly!
Proud moments happen everyday. I'll be sha
ring ours on the 21st of each month.
This week marks the yearly Down's Syndrome Awareness week and today 21/3 is DS Awareness Day across the globe. And this year the support has been amazing. From friends and family, our local community, nationally and internationally the bar has been raised and the goal to raise awareness and celebrate this wonderful global community has been surpassed. From nation to nation, some of the best known landmarks have embraced the day, illuminating in the colours chosen to represent Downs Syndrome - blue and yellow. It's an impressive list that includes The Empire State Building, CN Tower Canada, Millenium Bridge Gateshead and Blackpool Tower. Maybe next year, the list will be longer!...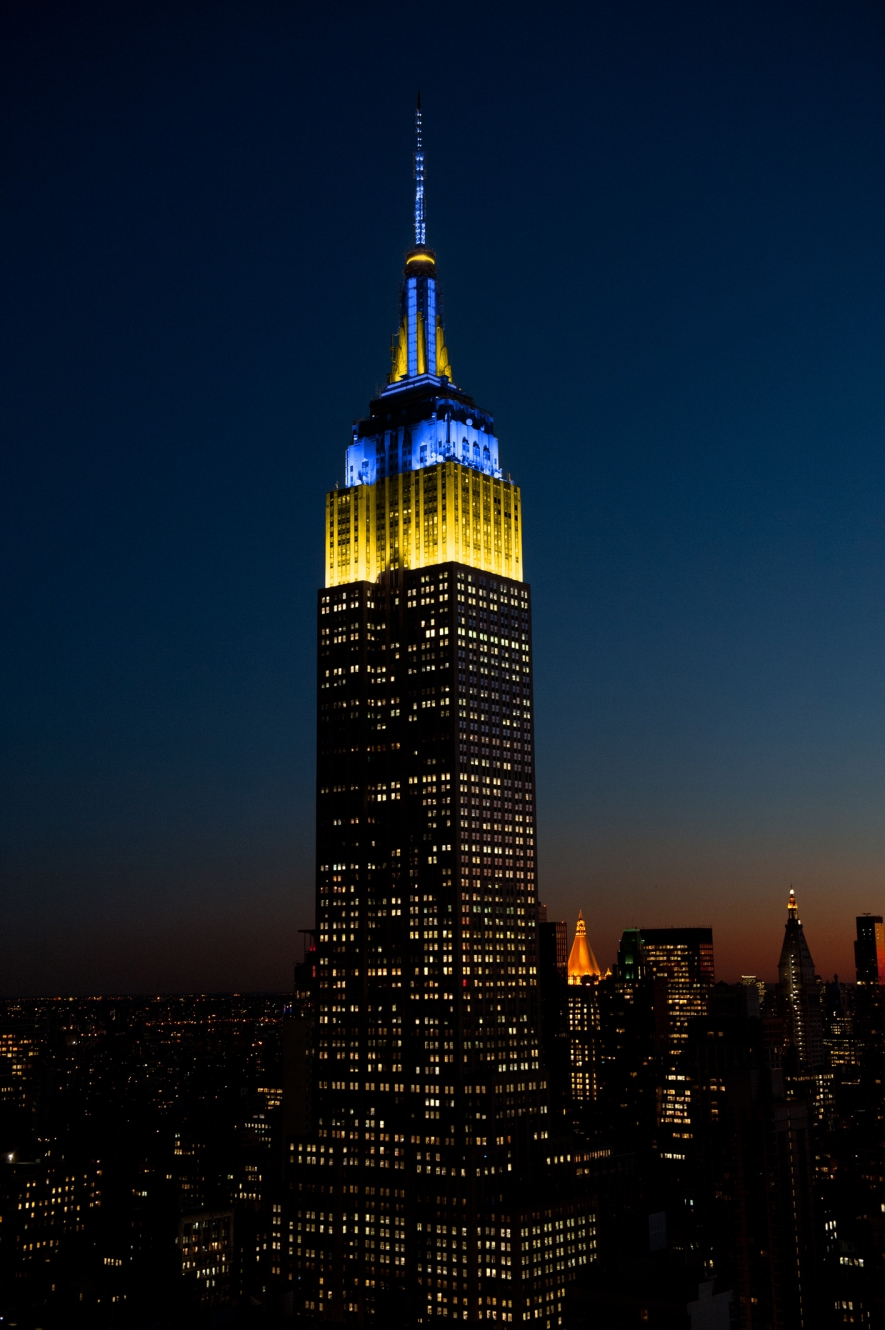 Empire State Building, NYC
I wanted to lend my support to awareness week this year, but wasn't sure how. Then a little incident in the supermarket got me thinking and I wanted to show that people with Down's Syndrome - or any disability - are a person first. They have likes, dislikes, strengths, character, personality, feelings and they make a positive contribution to their local communities and to society as a whole. Person first language is very important and I desperately want people to see Ella as a little girl, a sister, daughter, friend, mischief-maker, bookworm, the list is endless - she is a million and one things before she is a child with a disability. A diagnosis, whatever that may be does not define who someone is or what they are able to do.
My way of lending support was to share a little of who Ella is. In the days leading up to March 21st I shared a photo a day on the blogs facebook page.
This is where it started...
'So this happened last week...
In the supermarket,
Ella and Lucy in the trolley.
A hand on my arm
Head tilted
'They're so happy and loving aren't they?'
Then she was gone.
The lady was very well meaning, I get that, but she saw Ella and immediately put her in a box. She made assumptions based on her experience and understanding and it made me sad. Sad that she never asked Ella's name and that she referred to her as 'they'.
I firstly wanted to invite her round at bedtime/teatime/anytime things aren't going Ella's way - because like every other child she has a whole range of emotions that she cycles through on a daily basis. She is not just stuck permanently on 'happy'.
Down's syndrome is and always will be a big part of who Ella is. But I have always been determined that Down's syndrome will not define who she is.
She is a million and one things before she is a child with Down's syndrome and I will share some of them with you'...
Happy World Down's Syndrome Day! I've once again loved the odd sock pictures that have been shared by friends, family and even strangers. It's such a good feeling to belong to something special, there's a real sense of global community this year which I'm proud to be a part of today and everyday. Wherever you've turned on social media, someone somewhere is sharing, talking about, celebrating Down's Syndrome and wearing the obligatory odd socks, of course!