The past 5 or so weeks have passed in a bit of a blur. Only now am I starting to regain some sense of normality (whatever that may be!).
As soon as Ella walked into the room when she met Lucy for the first time she seemed to have changed so much (literally overnight) and suddenly looked so grown up. Big sister = big girl.
She has taken really well to being big sister (like we knew she would). I know I've mentioned her caring and nurturing nature before but it's so lovely to see it in practice. She loves cuddling Lucy and has to kiss her goodnight before bed and goodbye when she goes to nursery. We've found her putting blankets on sleeping Lucy and rocking her car seat when she starts to cry. She's not once shown any signs of being jealous and is already quite protective of her little sister especially I've found at nursery when the other children are gathered around to have a look.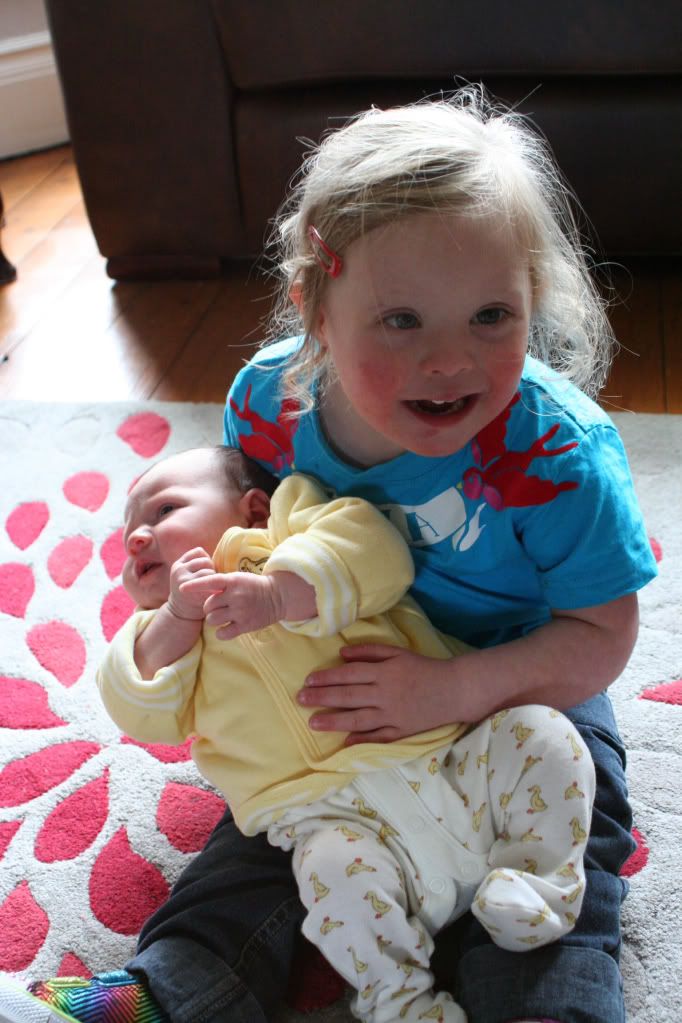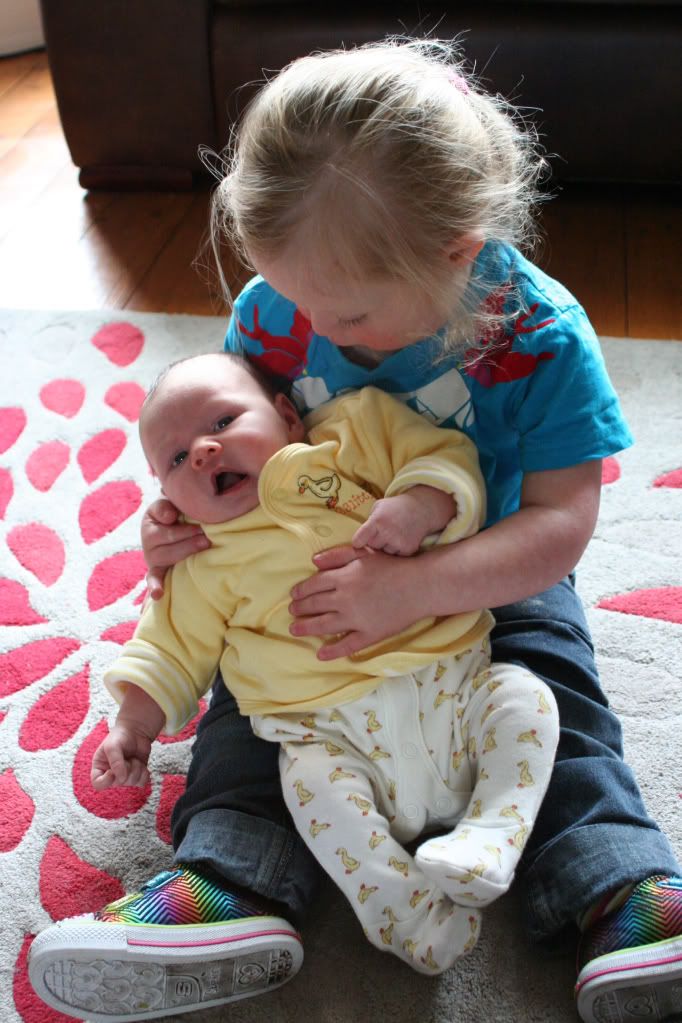 The first couple of weeks were hard as I seemed to be constantly feeding Lucy or catching up on sleep and therefore unable to spend a lot of time with Ella. With Ian being on paternity leave he took charge of Ella for the most part and he did a great job - choosing her outfits, getting her dressed, taking her to nursery, baths, stories, meals, play, appointments, trips to the shops (and he's now better than me at putting her hair up!). He really enjoyed spending more time with her and you could tell she loved having her daddy around more too.
I felt that my relationship with Ella did suffer in those first weeks and I really missed her. In my sleep deprived, hormonal state I worried that the special bond we have was gone forever. The constant stream of visitors made her hyperactive, difficult and at times naughty (not like her) - especially in the evenings when she was over tired (as we all were). Looking back I can see that she was probably just adjusting to the new situation and making sure she wasn't forgotten about! Nursery reported no change in behaviour there so that helped to calm my worries that this was hopefully not a long term issue. Again, hormones and lack of sleep had a lot to do with how I viewed the situation too.
I have to remember Ella is 2 after all and
tantrums and mood swings are part and parcel of having a toddler. Looking at it from a developmental point of view they are actually very welcome! She's been more settled for a couple of weeks now and has enjoyed trips to granny's house, the local festival (where she went on the bouncy castle, ate ice cream and sat in a fire engine!) and seeing her friends at Charnwood and nursery...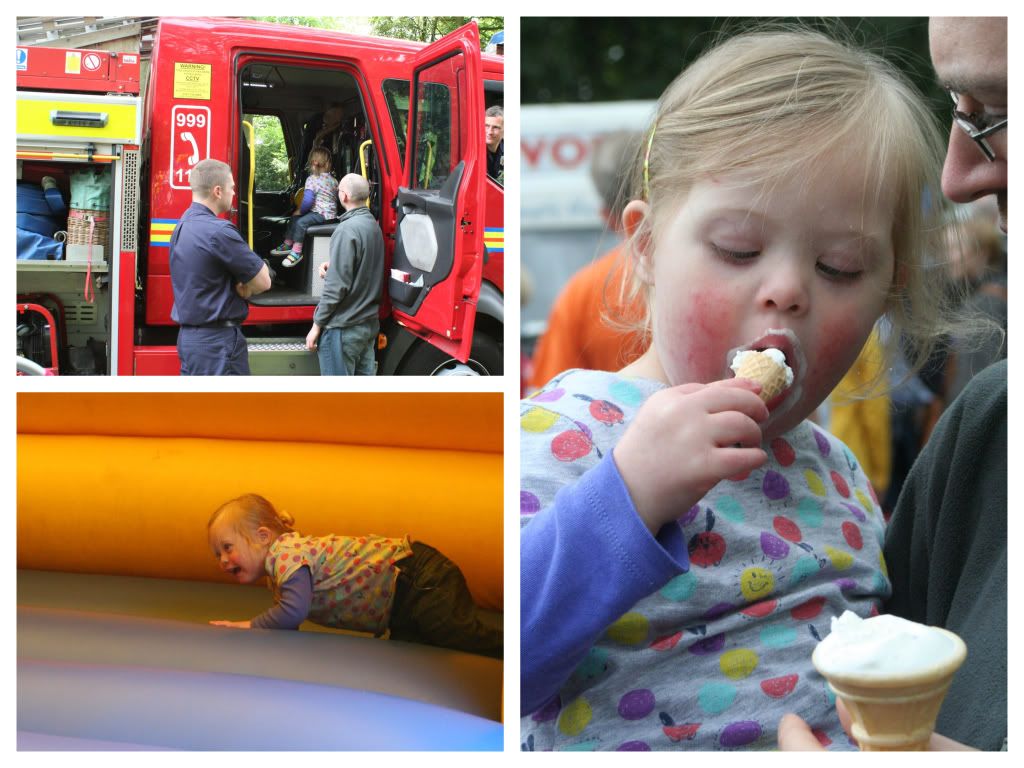 Lucy is also stating her presence. She's very much the opposite of Ella who was a quiet, placid, sleepy baby. Lucy either feeds, sleeps (but restlessly) or cries. We get some smiles but at the moment she's just a grumpy baby! The evenings are worst - excessive inconsolable crying, nothing soothes her apart from putting her in the pram but she wakes and the crying continues again as soon as you stop. We're hoping this phase passes soon as she's very high maintenance at the moment!
Some smiles...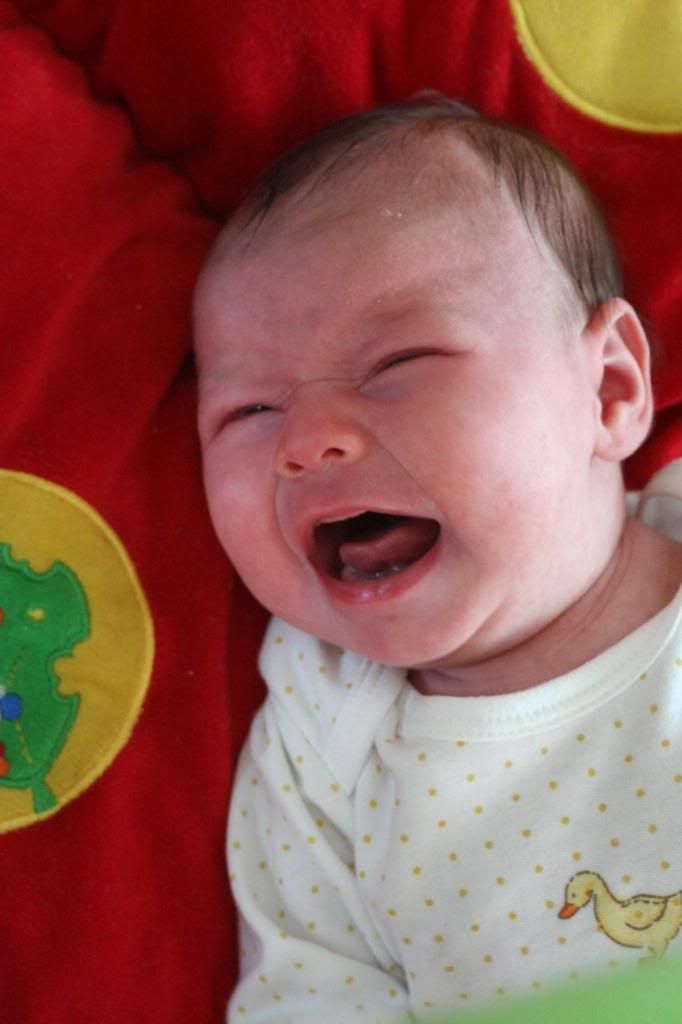 ...but mostly this.
Ella's love of her dolls continues, now fuelled by the presence of a real baby in the house...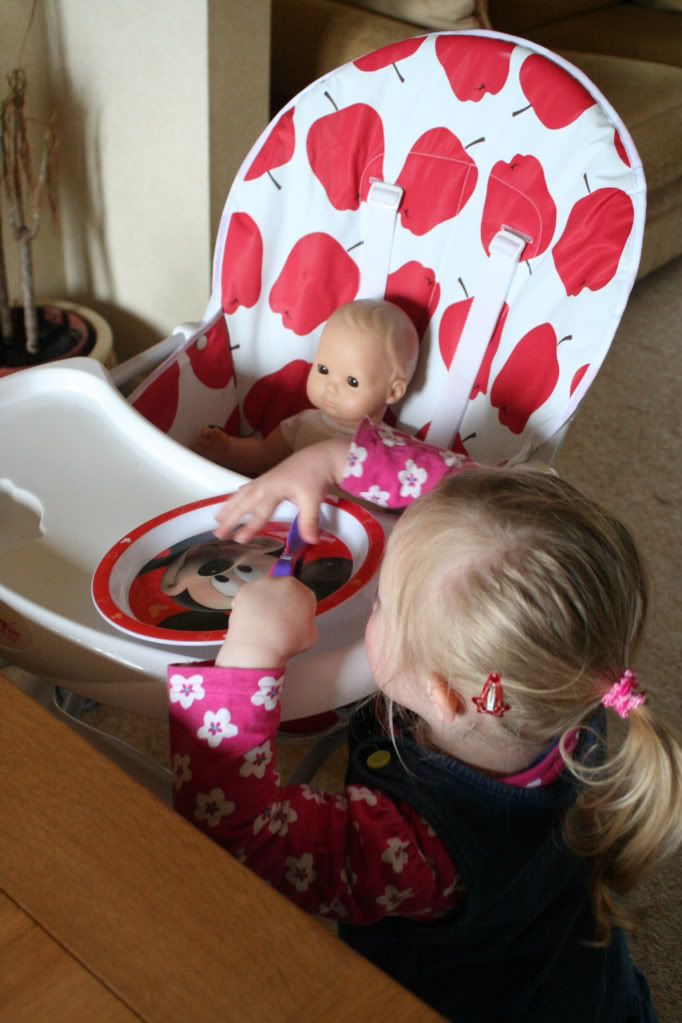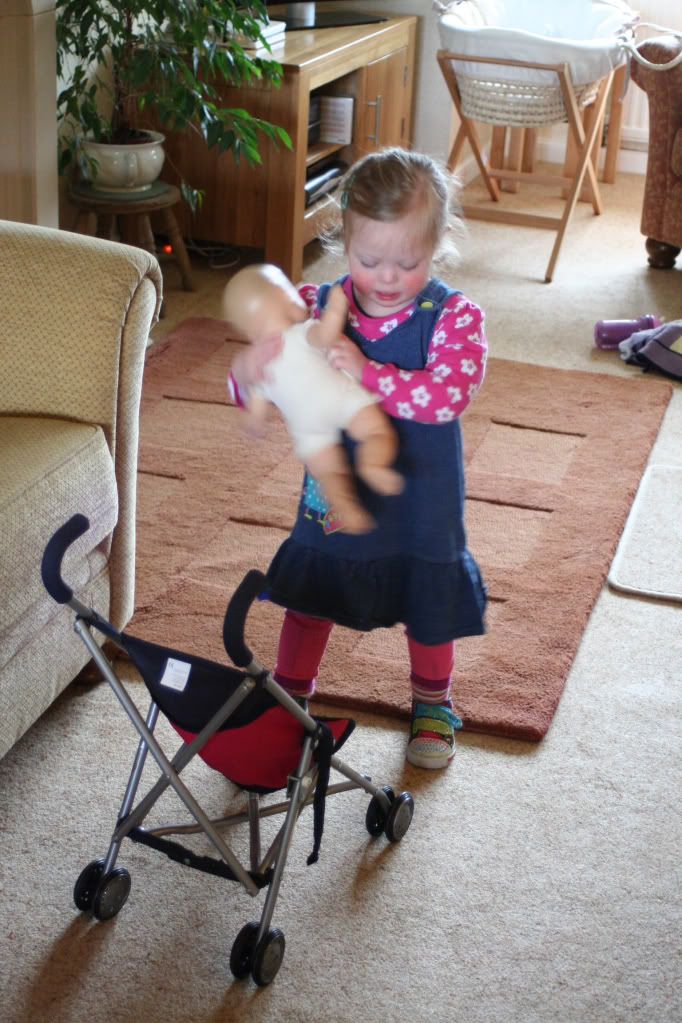 She also still loves Mr Tumble and our attempts to stop her from standing right in front of the TV have been helped by this lovely little stool my mum bought for her. She will now sit on it (most of the time) and view from a more acceptable distance. She's begun to get all the slapstick comedy in the programme - love hearing her giggles in the appropriate places...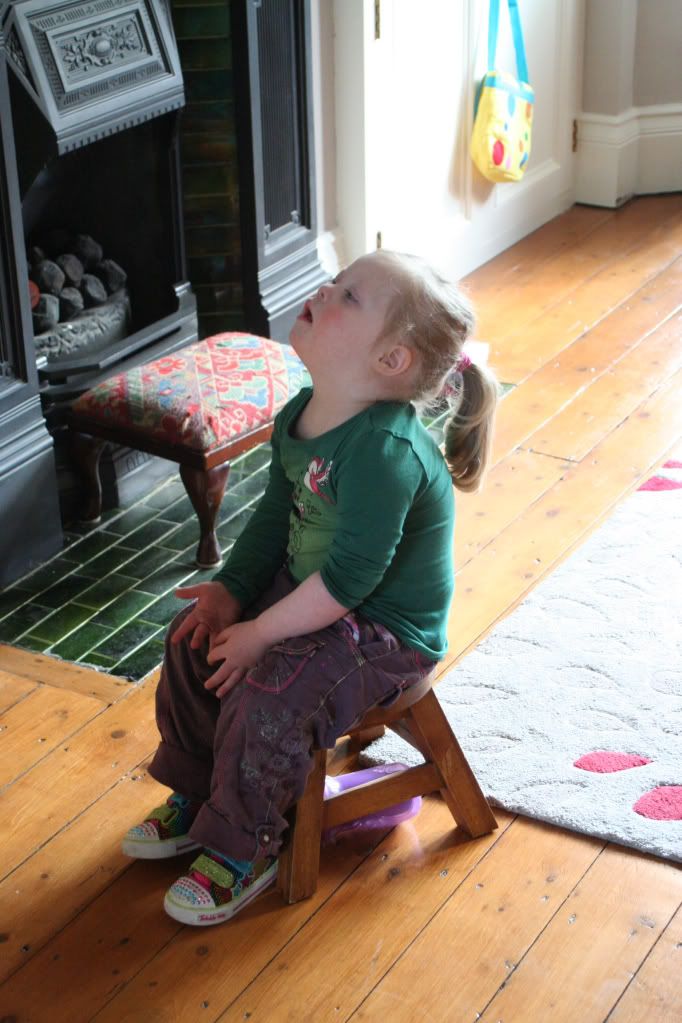 Ella continues to do well with her talking and signing although I know her understanding is still much better than her ability to communicate. I know she can tell/show me what she wants but she gets very frustrated when something's not going her way or she can't explain something to me. She's started copying speech sounds and our homework from speech therapy is to start putting words and signs together. When Lucy cries Ella says 'Oh-no, cry' and we've gone a bit scouse with pronouncing the letter 'k' at the end of words - 'book', 'look','duck' etc!
So, life with two is exhausting and chaotic but it is getting easier by the week. It's been such a different experience this time around for so many reasons - and in other ways it's been very much the same as last time. But more about that when I get my thoughts straight!
In the words of another mum I was chatting to at playgroup this week - 'things don't necessarily get easier with 2, you just get better at coping.'