The run up to Christmas has begun and it's been busy already. The tree is up, presents are being bought and wrapped, cranberry sauce is made and the turkey has been ordered...
Ella's Advent calendar
The Makaton charity contacted me a few weeks ago and asked if they could use the video of Ella signing 'star' in their on-line Christmas advent calendar. I of course agreed and we waited patiently day by day, not knowing what number she would be. We have learnt lots of new Christmas signs and Ella finally popped up on day 12... You can view the calendar using the link below...
Last Saturday was the South Manchester Down's Syndrome groups Christmas party and we had a lovely time catching up with everyone. It was also good to meet new parents and their babies.
This time last year Ella and her friends were the youngest members of the group. We were battling recurrent chest infections, Ella had her feeding tube and things like crawling, standing, talking and signing seemed a long way off... What a difference a year makes!
Fun in the sensory area with friends...
Ella is most definitely more independent now and we really had to watch her. She disappeared numerous times - under the buffet table, through gaps in chairs and crawling off through the crowd at speed. I had put her in a dress for the party which she was finding difficult to crawl in and was doing the 'legs straight walking with hands on the floor' manoeuvre - until she found she could keep it out of the way by stuffing the hem into her mouth...
She has suddenly become a very sociable and confident toddler, even when surrounded by lots of people she doesn't know. She delighted the choir and audience by sitting at the choir leaders feet in the middle of the floor and copying the conducting actions (unfortunately I missed this due to talking to some new parents). She spent the rest of the time stood on the floor in the middle of the stage looking up at the choir as they sang.
And then Santa arrived - I know she is still too young to understand who he is or what he represents but she enjoyed receiving her gift from him - he even got a high five...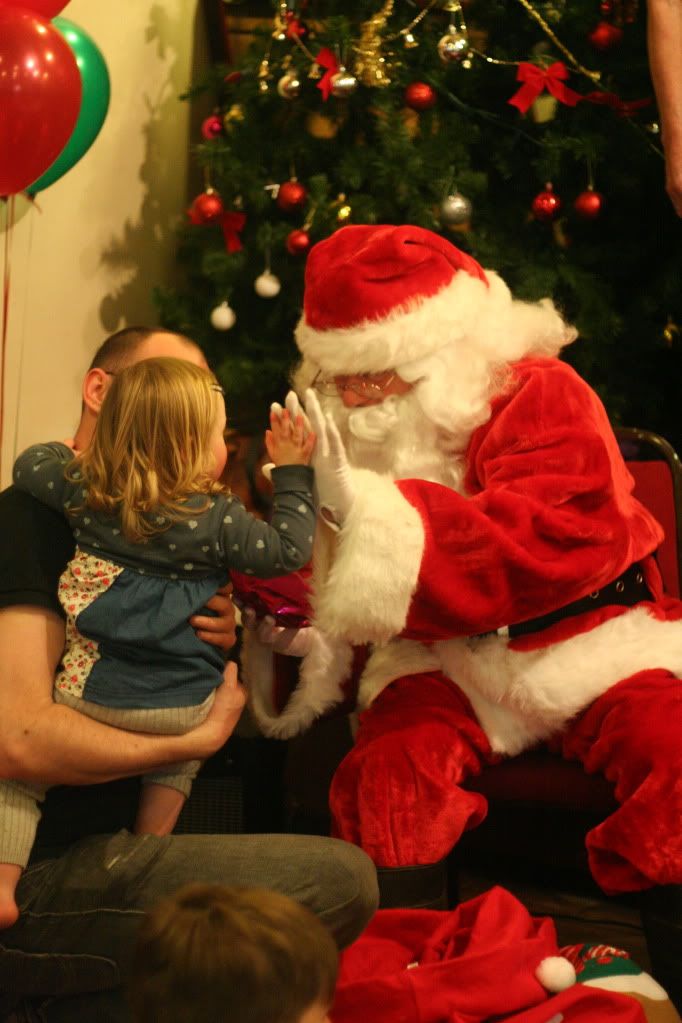 We have also recently seen a huge increase in her understanding and use of signs and words. She is copying new signs very well and then using them independently and in context. Some of her newest ones are 'granny', 'Henry' and 'hot'. She loves her music too, especially songs with actions...
I'm off to continue the Christmas preparations but if this is my last post before it arrives then a very Merry Christmas to you all xx