Last year we attended a pre-school special needs group run by our speech and language therapist and play specialist, specifically for children with Down's Syndrome. It was a chance to learn more about how children with Down's Syndrome understand the world around them and how we can provide the best learning experience for Ella.
When we started going, Ella was 4 months old. She slept through most of the first two sessions and we missed the third as she was having her heart surgery. She was the youngest of the group, with the oldest being about 2. I wondered what we would get out of the sessions with Ella being so young, but I think those of us with the very young babies will probably benefit the most from the sessions in the long run. We have been able to put into practice at an early stage all the tips for helping Ella to learn as much as possible.
Looking around the room, we were a pretty good representation of our society. The parents divided by so many factors; race, religion, culture, language and faith (to name but a few). However we were united, in this instance by the genetic make-up of our children, who despite sharing the same extra chromosome were all just as different as we are.
Over the sessions we learnt several important tools when interacting with and developing our children. Pausing and pacing, taking the lead, taking turns, hand-over-hand and signing.
The importance of a sensory box for play and a song box were also introduced. The sensory box (or, in our house a Roses tin..) was a favourite of Ella's for a long while and I still get it out now for her to play with. The idea is to encourage tactile play and introduce little one to different materials, sounds and objects while using all their senses. They are heavily advocated in play for children with additional needs but I think any child would enjoy having a sensory tin. We rotated objects and added new things to keep Ella interested. Things I included were:
beaded necklace

silk scarf

wooden peg

flashing ball

wooden rings

bells

shuttlecock

Feather

small piece of foil space blanket

Rattle

Rattan coaster

Ribbon

Washing up pad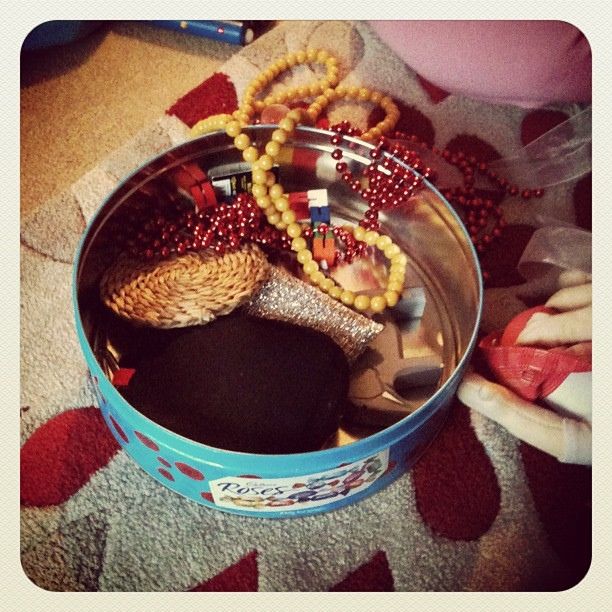 I also added some 'objects for purpose' to help her learn what certain items are for:
phone

hair brush

spoon

cup
As well as the sensory tin, we started up a 'song box'. It supports the understanding that children with Down's Syndrome are visual learners. Each song has an object that represents it in the box. The idea is that the child learns the association between a certain object and the song it links to. They are then eventually able to ask for the song they want by choosing the correct object.
This is also an activity that Ella's nursery use successfully with all the children.
The songs we have at the moment are:
If you're happy and you know it

One, two, three, four, five

Twinkle Twinkle

Baa baa black sheep

Incy wincy spider
The learning will never end, for Ella or for us. Ella will be joining the 'opportunity group' at our local special needs nursery (Charnwood) from September which I am looking forward to.
Happy weekend everyone xx
"Tell me and I forget.
Teach me and I remember.
Involve me and I learn."