International Down's syndrome awareness week has just finished. This year is extra special as 2012 is the first year it has been officially recognised by the United Nations. The world over there have been parties, community gatherings and fundraising events -all celebrating the babies, children, teenagers and adults with Down's Syndrome.
March 21st (21/3) is chosen as the actual day of awareness to represent the 3 copies of chromosome 21 that is unique in people with Down's Syndrome.
The following video is a photo montage that was put together for the week of celebrations. Look carefully and you might spot Ella...
But lets not forget, it's not so long ago that a diagnosis of Down's syndrome or other disability meant a lifetime of social and physical neglect, banishment to institutions, exclusion and discrimination.
Slowly, the world has begun to change but there is still a long way to go.
I think this generation will be different. Children these days are exposed to others with special needs and disabilities from a much younger age, inclusion is thankfully now the norm. Look at Ella - she has mixed with her peers from 9 months of age when she started a mainstream nursery. She has thrived because of it and the nursery has embraced her and her needs just as they do with every child they care for. My hope is that Ella will remain in mainstream education so long as it remains the right place for her to be. My expectations for Ella are high, as they w
ould be for any child.
I first met my wonderful friend Suzanne as we started secondary school aged 11. Her physical disability - arthrogryposis - meant that
her parents had had to fight hard to enable her to attend mainstream school even though she is one of the brightest people I know. And this was during the last 20 years.
Suzanne has taught me a lot about living a life that has daily challenges and has shown me that anything is possible, especially when you have supportive family and friends around you. I think knowing her has had a profound and positive effect on the way I dealt with finding out that Ella has Down's Syndrome.
Suzanne is now a much loved primary school teacher. The 4 year olds who pass through her classroom each year learn so much about people who are, for whatever reason, 'different' even if they don't realise it. They don't see Suzanne's disability, they just see Miss Cocks and that's the wonderful thing about children. It's also the wonderful thing about Miss Cocks!
The following is a poem written by Suzanne and used with her permission...
"The Way I See It" by Suzanne Cocks
My life is colourful in so many ways
My external happiness everlasting
But as I sit alone, I ask myself
A person alone – thinking, forever wondering 'What if?'
Content with life, but unsure of the message life portrayed in my creation
Why am I different, or is it that others are different from me?
If only there were answers to my many questions!
But no – my life won't change, I can only change how I look at life
My mind and body are as one just like yours – aren't they?
The feelings of loneliness and insecurity are freed by the people physically opposite to myself who make my world 'normal'
I hear you ask – what is normal?
But to me, normality is what others have and share with me through life's experiences
Some may see this as denial – a failure to recognise the reality of who I am
I just see it as a way to go forward with my life.
As the years have moved on I have struggled to understand how and why my feelings have altered so much
Protected as a child from people who could damage my emotions – their hidden ignorance I failed to see
As my youth and innocence have disappeared I feel I should now have more control of my feelings and emotions and identify my role in life
I never dreamt these feelings would become more negative.
Instead of dealing with my differences I often try and hide them deep down in my thoughts
But events from day to day forever arouse them to my conscious mind
I am different – I often feel labelled – I am disabled.
I, like you, have an inner body which feels strong but is trapped in a world that is unique to me
In my world I see what you see, feel what you feel but cannot do all the things that you do
I do not wish that I had been created any differently but you have to accept the way I choose to deal with life as it is
I believe I am a better person for the experiences I have endured and am grateful for the opportunity to appreciate life from my point of view
I really hope that the 'normal' people I know live life to the full and accept how lucky they are!
They should not waste their time mocking 'different' people.
The power-staring eyes I have felt on me have at times been very painful. Time helps you cope with this situation and makes you realise that, in a positive light, one can teach young eyes that it is okay to be different, thus hopefully improving the outlook and opinions of the younger generation.
As for the older eyes – well…. I'm just sorry their lives have existed in such ignorance – they don't know what they have missed!
I have not just written this to help me personally but in the hope that people can try and see how my mind works
It may not be the same as the next 'different' person sees it but is unique to me
Who knows what the future will bring – all I know is that I am dealing with life one day at a time and at present could not be happier!
The following words from a prayer have inspired me to get on with life:-
'Grant me the serenity to accept the things I cannot change, the courage to change the things I can and the wisdom to know the difference.'
One day I hope to match up to these words and be forever happy!!!
Suz and tiny Ella!
....a big, massive, huge thank you to my brother Tom who ran the Lisbon half marathon this weekend in aid of Ronald Macdonald House Charities. £480 raised so far and well done to your knee for doing it, even though the last 5 miles were hard. And thank you also
to Graunty Ruthie and her colleagues for the £52.70 from the cake sale
.
Ella is now crawling (but only backwards and not very far!). She's really chatty and clapping, waving and pointing lots!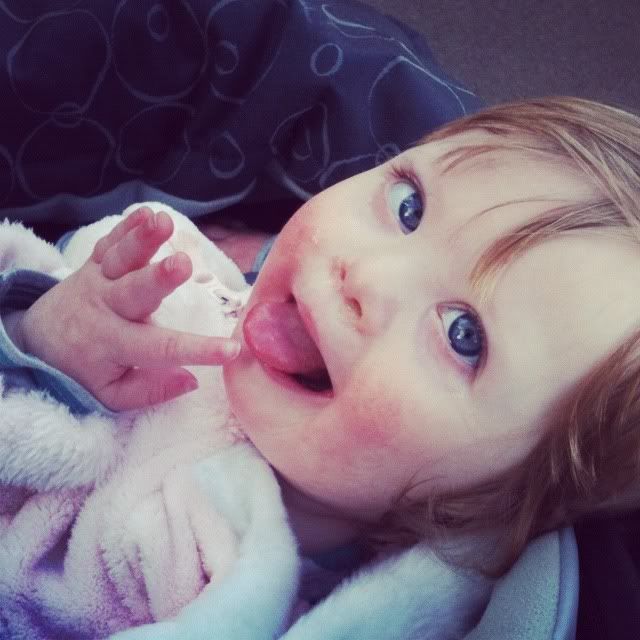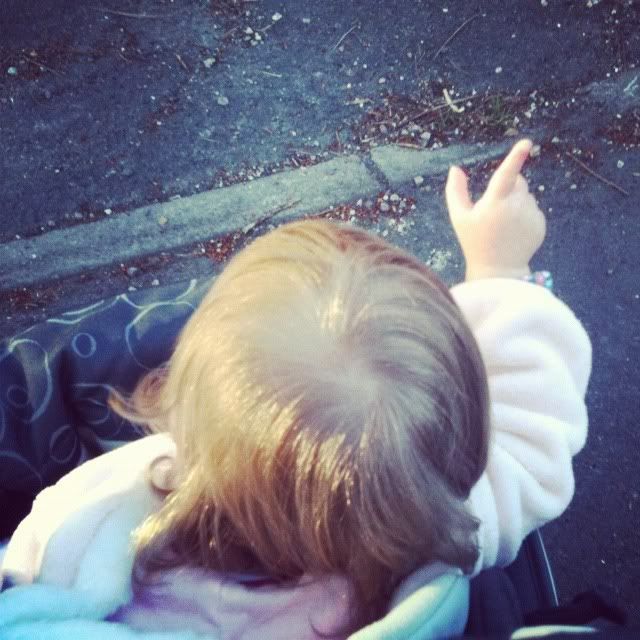 Looking forward to a weekend in Wales with my family next weekend. Sure there will be pics and stories to tell next week....